This site is about No More Sweden and anything related to the event, the people or independent games in general. If you have questions, please ask!
What is "No More Sweden?"
No More Sweden is a gathering of independent game developers from the whole world meeting up somewhere in Sweden. The event has been arranged every year since 2008. The first time we met up in a basement in Skövde, and the event was organized by Erik Svedäng. This is how it looked: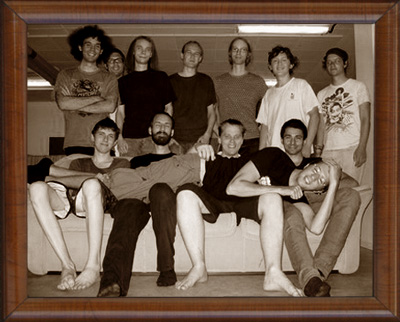 The second time Martin Jonasson was the main organizer and the event took place in Malmö, the summer of 2009.
The third rendition was back in Skövde again. This time in a somewhat bigger venue arranged by Gothia Science Park and Daniel Kaplan. This is also the year we let all participants who wanted to hold a short presentation, a big success!
With the help of Christoffer Hedborg, the fourth version (2011) took us to Stockholm and offered additional focus on the talks we tried out last year.
No More Sweden 2012 & 2013 were both hosted by Martin Jonasson at Stapeln in Malmö and the number of participants reached a new record, 85 people!